We were actually going to be departing early, until this woman wouldn't sit in her seat. She had other family on the plane and there weren't enough seats, but she wouldn't sit where the empty seat was. I don't know what the entire deal was. Maybe she wanted to sit by her family and the seat was taken. I don't know, but what I do know is that it was making me mad. Our flight through JFK was cutting it close enough, and any extra time we could get, we would take. So finally she sat down, along with everyone else who refused to follow instructions about staying in their seats, but instead of leaving early, we left on time/a little later than supposed to. They announced that we would be watching Spiderman 3 and Shrek 3!! Yay! But apparently they forgot to switch out the movies, so we watched "Premonition" which is an interesting movie, but very hard to understand until about the halfway point. They could have played 2 more movies, but instead they decided to play these weird TV shows. lol We ate a lot of food on that plane though!
Lunch:
Salad
Pesto Roasted breast of chicken or Penne Pasta
bread with butter
cheese and crackers
oat crunch cookie
Midflight:
Mini Haagen Dazs vanilla ice cream
Afternoon refreshment:
4 cheese pizza
shortbread cookie
Got to JFK and it was crunch time! We started running through the airport, following the crowd to passport control. Lines, of course, but it moved quickly. So we had an hour and a half to get through passport control, customs, claim our baggage/recheck it through, and get to the gate all the way down the terminal. After passport control, we had to wait for our luggage to come, so we were on belt 6 and we had 2 carts for our luggage. (Those little carts are hard to push, until we figured out that you had to hold down the handle. lol) Then we heard that it was coming on belt 3 instead. So we maneuvered through the people to the belt. And of course, when you are in a hurry, your luggage seems to take the longest, like it was in the back of the plane. I saw the same luggage go around like 5 times (probably more) before I saw one of ours. lol Once one came, they all seemed to come as well. Threw our luggage on the carts and scrambled to re-check them through. Showed our passports again to a TSA guy and then all we had to do is take our luggage and set it down with the TSA guys who would put it on the belt. Easy enough. Then we went through security (laptop, lotion, shoes, again! lol) and this one TSA guy was funny. My mom had said, let's hurry and move out of the way and the guy was like alright, just what I want to hear. (something on that order) So as I was putting my laptop away and putting my shoes on he came over and talked with us and asked where we came in from and how we liked Europe. Nice guy.
Then we headed off to the gate. We saw on one monitor that our flight was delayed until 6:15pm, so we thought, well, at least we got through everything fast. lol Then as we were making our way to the gate, I saw another monitor that said it was on time, 4:05pm. We started running now. lol It was only 3:20pm or so, but they were boarding around 3:35pm I think. So we sat down and right behind me was a Starbucks!! However, at that time, I didn't feel like coffee. lol My mom and sister got some magazines for the plane and I had to go to the bathroom, but there wasn't a bathroom close enough except around the corner and all the way up the ramp, so that didn't work. lol
So we boarded and they had announced that they would be playing Spiderman 3 and you could by headsets for $2, but lucky for us, we had some headphones from our trip over, so we used those. lol Got some snacks. I swear, I have never been fed so much food on a plane before. Descending/landing was fun. It was raining and we started to descend and we went down pretty fast at one point and I got that feeling where your stomach is in your throat and all of the sudden I see my sister grab onto the arm rest as tight as she can. LMAO! That was funny. Landing was as expected when it rains, so that was fun. lol
Finally got home and partially unpacked.
The only problem I am having is the sleep schedule. I was fine with the time change overseas, but coming home, I can't seem to sleep past 5:20am. UGH!!
JFK (slightly blurry, I was trying to be secret agent. lol):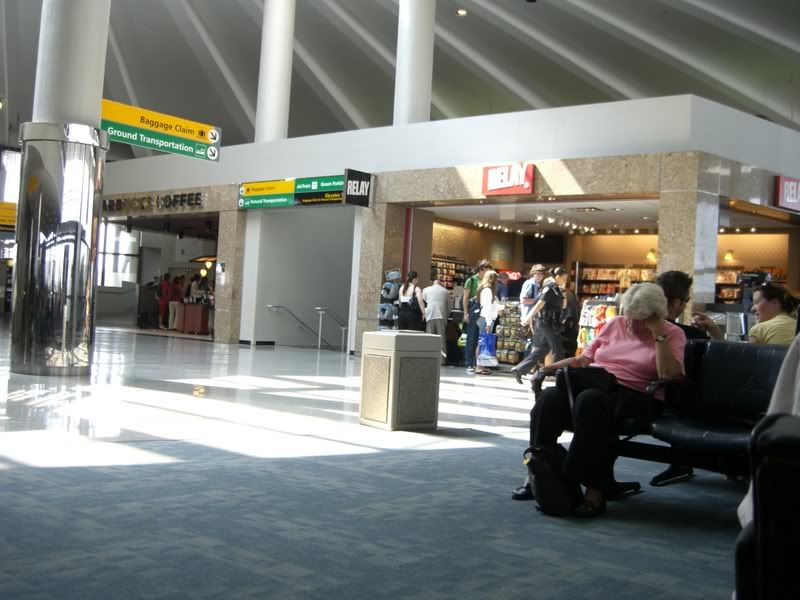 On the plane: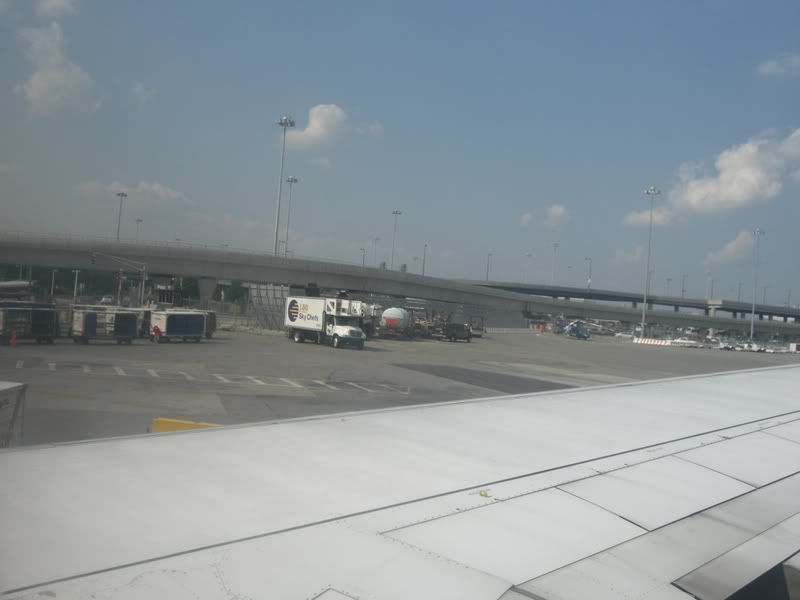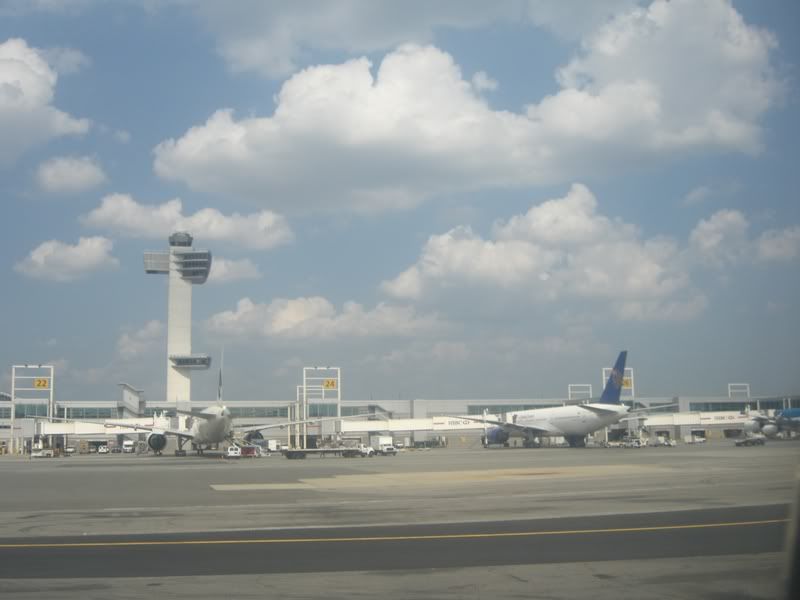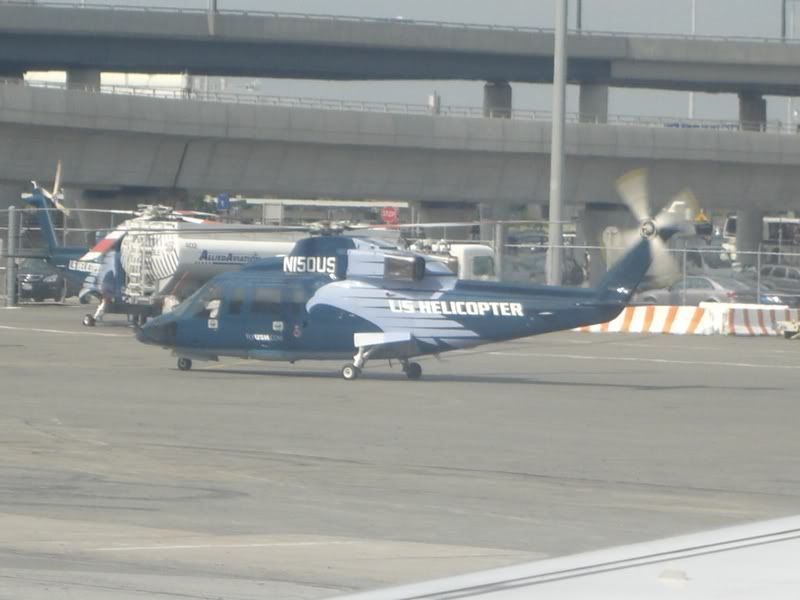 Well, we left Cannes for Nice this morning. Got up at 6:00am and got to the airport around 7:30am. Our flight wasn't until 11:30am, but my aunt and grandma were leaving at 9:45am, so we all went together. Had a cafe latte and got some breakfast and began to board our plane by that time.
Current Mood:

blah